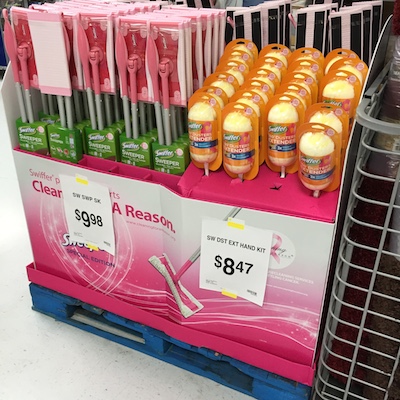 You've probably been seeing a lot of pink in stores recently since October is Breast Cancer Awareness Month. Swiffer is one of these brands — they recently released a limited edition pink Swiffer Sweeper and Swiffer Duster, with a portion of the proceeds benefitting breast cancer research.
Added bonus, they're really cute. I ran across a large pallet of them at Walmart yesterday, so look for them in stores now!
I've had a number of friends touched by this terrible disease recently, so I'm thrilled to see brands partnering with various organizations to fund research. Every little bit helps, right?
But what about the women that are already battling this disease right now? Fighting cancer is difficult enough, but living with it is even tougher… and that's where Cleaning For A Reason steps in. Cleaning For A Reason is a non-profit organization that partners with maid services to offer free professional house cleanings to improve the lives of women undergoing cancer treatment.
To date, they've provided more than 17,000 cleanings for women with cancer with a value of more than $4.5 million. Isn't that incredible? I mean, what an amazing gift for these women — allowing them to focus on getting well.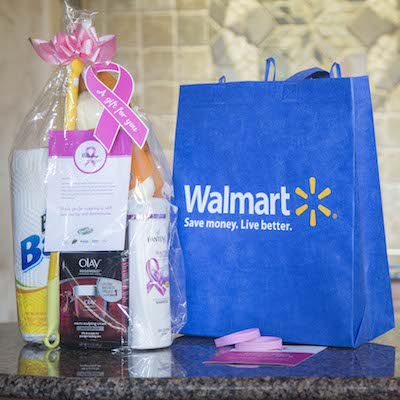 Swiffer, in collaboration with Walmart, is helping Cleaning For A Reason go one step further by providing care packages filled with a variety of products for the recipients of these free cleaning services for the month of October. The package includes Olay Regenerist Microsculpting cream, Crest Pro Health Clinical Gum Protection toothpaste, Oral B Pro Health Clinical Pro Flex toothbrush, Swiffer Duster 360, Pantene Beautiful Lengths shampoo and conditioner and Bounty paper towels.
Cleaning for a Reason was recently named by Reader's Digest as one of the 25 Best Things to Happen In America, and I couldn't agree more. If you use a maid service or have friends that work in the industry, please ask them if they've heard of the Cleaning For A Reason foundation. As the demand for services increases, they're always looking for new partners.
If you know a woman that's currently battling breast cancer, please point her to Cleaning For A Reason at https://www.cleaningforareason.org.