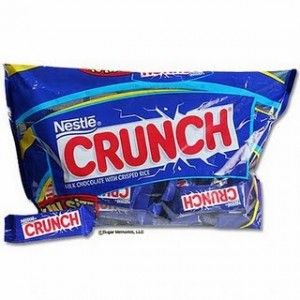 There are a couple of super hot candy coupons on Coupons.com right now!
I've spotted some really great deals using these right now at CVS and Kroger.
:: CVS
Wonka or Nestle Fun Size Bagged Candy, $5
Get $5 ECBs wyb $20
Buy (5) Nestle and Wonka Bags at $5
Use $5/$25 CVS Flu Quiz Coupon
Use (5) $2/1 Nestle or $2/1 Wonka printables
Use $1/2 Nestle Candy via Upromise Deposit
$0.80 ea. after coupons, ECBs, and Upromise deposits!
:: Kroger
Kroger has a Catalina deal going on right now that would pair well with both the coupons and the Upromise deposit. There's also a $1/2 Wonka Candy (12-oz.) via Upromise Deposit that would work.
Purchase 2 Nestle or Wonka Bagged Candy (11-oz.+), get $1 toward your next purchase
Purchase 3, get $2 toward your next purchase
Purchase 4+, get $3 toward your next purchase
(Thanks, New Frugal Mom!)
Have you found any other spectacular candy deals using these coupons?