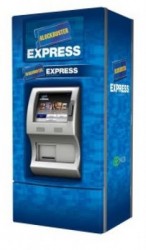 Through March 31st, 2010 you can get a free DVD rental at your local Blockbuster Express. Simply use code: GY131.
Even better, Blockbuster now offers the option for you to rent online and simply pick up your DVD rental at a kiosk, allows you to browse through titles at home and spend less time actually renting the DVDs!
These can be used once per debit/credit card, so you can rent more than one for free by using different cards.