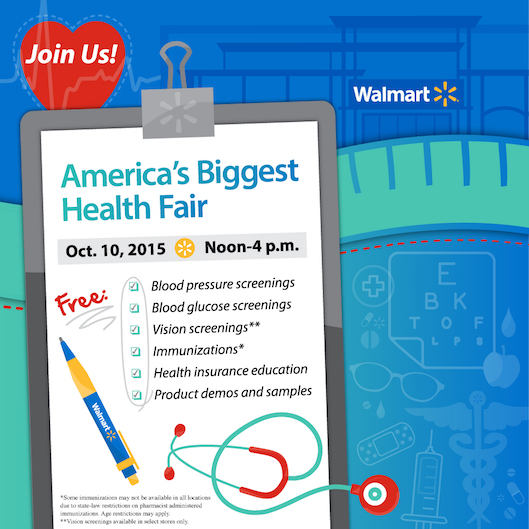 Making a commitment to get healthier can seem a little overwhelming… Am I right? But what if you take a minute to break it down into small baby steps that you can tackle in just 10 minutes or less? Seems a whole lot more manageable then. Yes?!
This is exactly the premise behind the #Just10 campaign. Starting on Saturday, October 10th (10/10) at America's Biggest Health Fair, Walmart wants to help get you started on your journey to good, better or greater health!
In just 10 minutes at Walmart you can complete the following activities to make your life healthier:
Get your blood pressure taken and your blood glucose checked
Get a flu shot and a pneumonia shot.
Learn what are the best health insurance options for you.
Get a vision screening and your eyeglasses cleaned and adjusted for free.
Shopping at Walmart for just 10 minutes burns 35 calories.
The #Just10 challenge is bigger than just the health fair, though. It's an attempt to get us all to find ways to squeeze in short, 10-minutes or less activities daily with the goal of making your life healthier.
With that in mind, I thought I'd share 5 easy under 10-minutes ideas to get you started:
What are your favorite quick and healthy activities to squeeze in each day?
Visit Walmart.com/healthcare to find an America's Biggest Health Fair event near you. The event will take place in more than 4,400 stores across the U.S. from noon to 4 p.m. Free blood glucose, blood pressure, vision screenings, product samples and health insurance information will be available. In addition, more than 10,000 of Walmart's licensed pharmacists will offer immunizations in select stores.