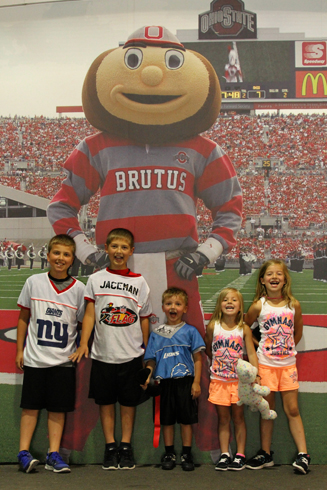 Sports are a big deal in our family — a BIG deal. We expect our kids to participate and be active which makes for some pretty hectic seasons at times, but we feel like the benefits far outweigh any of the minor inconveniences.
So far we've tried soccer, t-ball, football, cheerleading, baseball, flag football, swimming and gymnastics. Whew, I get tired just typing that! Our number one rule? You may choose to try any sport; however, if you sign up, you are making a commitment, and you will honor that commitment and participate to the best of your abilities until the end of that season. Quitting is not an option.

My girls have settled on competitive gymnastics for the time being. Camden will be competing at level 5 this fall, and this will be Addie's first year on the team at level 4. As you can imagine, this is a HUGE commitment, physically and emotionally, as well as financially. They spend upwards of 11 hours a week at the gym year round, but they love it. I'm so proud of their hard work, and I'm constantly amazed at the new skills they're learning!
My two older boys have decided that baseball is their chosen sport for the moment. Ryne played catcher this past season, and Jace played a variety of positions including catcher and 2nd base, as well as pitching a few games. They're both talking about looking for a travel team for the fall, but we have some reservations about going this route. I'd love some feedback if you have experience with this!
Being just four years old, Drew has only had the opportunity to play flag football so far, but he's already talking about playing soccer and t-ball next year. Oh boy, our already packed schedule will be completely maxed out, but we'll make it work.
Though the seasons and sports change, there has always been one constant — you can bet that you'll find me and my husband on the sidelines cheering them on. We're their biggest fans! Whether they hit a game winning triple or have a fall during their beam routine, we'll be there to celebrate their successes and help to build their confidence back up after their failures. Isn't that what being a parent is all about?
If you haven't seen the clip of Aly Raisman's parents cheering her on during her Olympic gymnastics team qualifiers bars routine, you really must check it out. It's the best example I've seen of parents that are totally and completely there for their child. Never mind that they look more than a little awkward and crazed (and totally hilarious), they are unequivocally Aly's biggest fans.
And I completely understand what they were going through in that moment. Every time my son throws a pitch, every time my daughter performs her bars routine, I am totally on edge and probably looking a little crazed myself, but that's my kid out there. And I will root for them until the end!
Are you willing to make a bit of a fool out of yourself to cheer your child on? I'm betting the answer is yes.
Disclosure: I was compensated for this blog post as part of the SocialMoms and Duracell blogging program. The opinions and ideas expressed here are my own.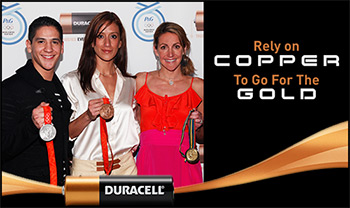 Learn more about the Duracell Virtual Stadium and submit your own motivational message to this year's Olympians!
Duracell is an official sponsor of the London 2012 Olympic Games. Team USA may rely on Duracell to power their training devices, but they also need fan support to gain the winning edge. So, Duracell has launched a Virtual Stadium app tab on their Facebook page to help power the athletes by sending them an inspiring message as they go for the gold.
Your words of encouragement will become part of Duracell's Virtual Stadium, which will be displayed on 25+ foot high-tech screens in London this summer at the P&G Family Home (the only place where athletes and families can come together since family is not allowed in Olympic Village). When you submit a motivational message or video, you'll be entered for a chance to win a trip to the Sochi 2014 Olympic Winter Games or a $500 Visa gift card from Duracell.