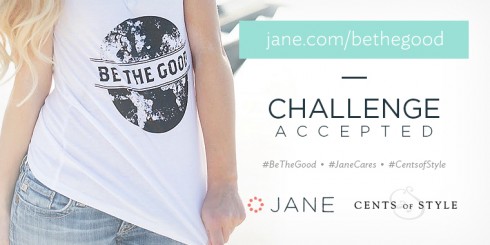 A few weeks ago, Courtney Brown of Cents Of Style contacted me with a challenge…
We have the chance to create a tiny movement and we want you to be a part of it. We are partnering with Jane.com to bring the social media world the #BeTheGood campaign. With your help, we know this campaign will go viral and help promote goodness throughout the world.
How could I say no to such a worthy cause? I mean, what an awesome opportunity to do something, big or small, for another person. Challenge accepted!
So this morning, I put on my adorable #BeTheGood tee, along with my favorite #AmandasArmy necklace from StudioJewel, and set out to run some errands and hopefully bestow a few RAOKs. And then I promptly dribbled my Pumpkin Spice Latte down the front of my shirt…
Yes, I'm a bit of a spaz — but a shirt isn't necessary to bring the light of kindness into this world. Although I do hope you'll buy one of these adorable Be The Good t-shirts to support this campaign. They're super cute and soooo comfortable!
So what's my contribution to being the good so far? Well, so far I signed up to take dinner to a dear friend who just had a spinal fusion surgery.
Have you ever heard of Take Them A Meal? It's an awesome little website that makes coordinating meals for those in need a cinch. You can even just send a dinner delivery if cooking is not your thing!
Here's what's on the menu:
Cilantro Lime Chicken — prepare this flavorful cilantro lime chicken with a side of corn and black beans all in one pot for super easy cleanup!!!
Coconut Milk Rice — my favorite way to serve this coconut milk rice is with a little lime and cilantro stirred in, a perfect easy weeknight side dish!
Chocolate Chip Muffins — these chocolate chip coffee muffins are moist and flavorful, amazing with a hot cup of coffee on a cool fall morning!
What do you think — sound yummy?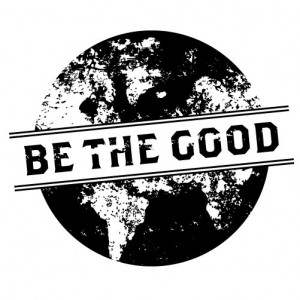 Now here's the part where I challenge all of you to take a part in this movement and spread goodness throughout. Good luck my friends… I can't wait to hear about your acts of kindness! See below for details:
1. Choose a good deed. Could be as simple as paying for the coffee after yours. (I do this one a lot — such a nice surprise for the car behind me!)
2. Share your goods. Pick your favorite social channel (Facebook, Instagram, Twitter, etc.), but first, make sure to take a selfie (or something appropriate to your story), and share your story, big or small. Be sure to use these hashtags to help this campaign spread: #BeTheGood, #JaneCares and #CentsofStyle. You'll see your story featured on Jane.com!
3. Tag 1-5 of your friends to do the same.
4. Look stylish while doing it! Jane.com and Cents of Style are selling some super cute #BeTheGood t-shirts on Jane.com. All profits made will be donated to Girls Inc., an organization that inspires girls to be strong, smart and bold.
Need some more ideas? Be sure to check out the Be The Good page on Jane.com for inspiration.