The $16 offer has ended. Now you can CLICK HERE to get 18 months of ALL YOU Magazine for just $17.99!!!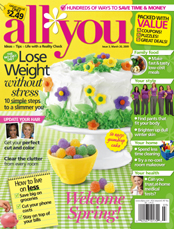 Wow, have I got a steal for you . . .
If you thought ALL YOU Magazine was a fabulous deal at $19.95 for two years, what would you say to two years for just $17.99? I mean that's less than $0.75 an issue for a magazine that's chock full of fantastic money-saving coupons.
That's almost 70% off the cover price!
Not familiar with ALL YOU Magazine?
If you're a regular reader, I'm sure you're already familiar with the fabulous manufacturer coupons that are in every issue of ALL YOU magazine. However, if you're not familiar with it, you'll want to check out my all about ALL YOU magazine post for the full scoop on why this is such a stellar deal.
To put it briefly, ALL YOU magazine is only carried in Walmart stores at a price of $2.24 after their 10% discount. At this subscription price of 2 years for $17.99, you're getting it for just $0.75 an issue! You can easily recoup the cost of this subscription with just an issue or two's worth of coupons.
How can you order your ALL YOU Magazine subscription?
Get the details on how you can place an order on my new All You magazine order page!
Because this is such a great offer, no refunds can be issued once the order has been submitted.