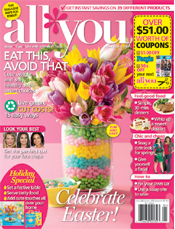 Good news everyone!
That's right – Deal Seeking Mom is now the permanent home of the $17.99 ALL YOU Magazine 18-month subscription offer!
No tax. No shipping. No gimmicks.
I can't tell you how thrilled I am to be offer my readers such a fabulous price on this wonderful resource on an ongoing basis.
I've gushed about how fantastic it is with all of the great monthly coupons and articles on many occasions, so I won't bore you with all of that.
Just know that this is a HUGE savings off the cover price and even the regular subscription price! So if you'd like to place an order, you'll find a new link in the tabs at the top of my page to snag your ALL YOU 18-month subscription for just $17.99.
Oh, and BTW, did any of you happen to notice who's on Page 23 of the April ALL YOU issue?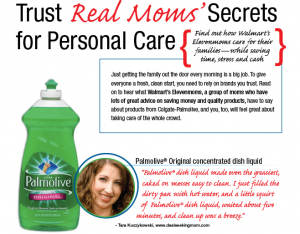 I can't tell you how thrilled I am to be featured in one of my favorite magazines! And I totally do love Palmolive dish liquid. It's what we used when I was growing up and what I still use today. Don't you just love the original scent?
Okay, you can go place your orders now! :P