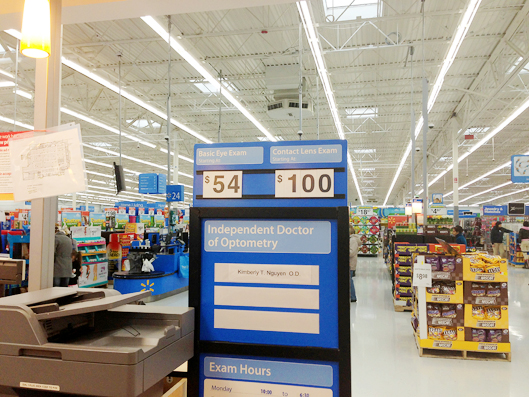 I'm a little embarrassed to share with you that the last time I had my vision checked was when I was in college. I wore glasses and contacts in middle school and high school, but at some point I just stopped wearing them because my glasses were a horribly outdated style and I struggled with recurring eye infections from the contacts. My vision wasn't that bad, so I've managed just fine until now.
Recently, however, Walmart asked if I'd be interested in trying out the Walmart Vision Center at my local store, and this was just the little nudge that I needed to make an appointment with an optometrist. Actually, I made appointments for both my husband and myself, as he was in pretty much the same situation.
We weren't sure what to expect since neither of us have had our eyes checked in so many years, but the associate that greeted us put us right at ease. She was super friendly and helpful and remembered talking with me on the phone to setup our appointments, and I especially appreciated how great she was with my 5 year old who was along for the ride. She allowed him to observe all of my tests and to look at my eyes through the equipment, which he obviously thought was super cool.
My husband had been hoping for contacts, but as it turns out, for various reasons neither of us are very good candidates for contact lenses. We both opted to pick out a new set of frames from Walmart Vision Center's large selection. With prices starting at just $9, I was totally impressed by how easy choosing an affordable yet stylish pair of glasses was. We were so surprised at checkout to find that my cute purple frames were just $18, and the silver wire frames my husband chose were just $9!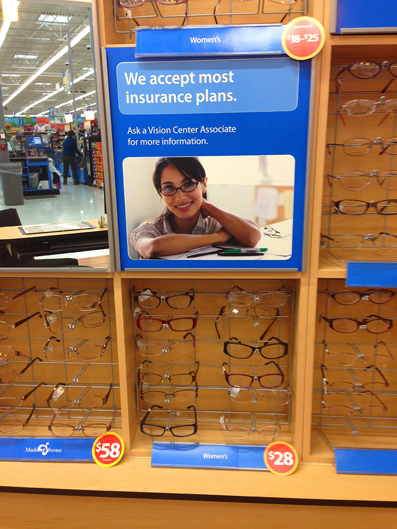 The prices for exams were equally affordable — $54 for an exam for glasses and $100 for an exam for contacts. Note that the price does vary slightly by location.
Because the exams and frames were so inexpensive, my husband and I were able to splurge a bit and add the antiglare coating to our lenses for $50 per set. And since we made our purchases at the same time, my husband's frames and lenses were an additional 20% off! It will take about a week for our new glasses to come in, and we're both really looking forward clearer vision.
If we had been good candidates for contact lenses, Walmart Vision Center carries some really affordable options for contacts as well, like these new Equate 1-day disposable contact lenses. At just $30 for a 30-day supply, these would have been a great easy care option that might have helped with the infections issue I experienced when I was younger.
Altogether, I would highly recommend the Walmart Vision Center for great customer service, convenience and affordability. We'll definitely be taking the rest of the family over for a vision screening very soon!
As a participant in the Walmart Moms Program, I've received compensation for my time and efforts in creating this post. All thoughts and opinions are my own.