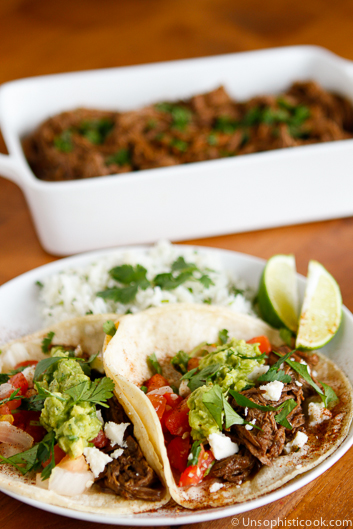 There are a number of tools in my kitchen that I consider essential to getting dinner on the table quickly on busy weeknights — my immersion blender, kitchen scissors, and Le Creuset French oven to name a few.
But topping that list, hands down, is my slow cooker. I'm of the opinion that there's no need to drop big money on a slow cooker with all of the bells and whistles. I have a number of crock-pots that retail at a wide range of price points, but my favorite is still this simple model with only three settings from Crock-Pot! I was lucky enough to pick it up for only $5 at a Black Friday sale a few years ago, but it's still well worth the money at the current price.
It's magically easy to just toss some ingredients into the slow cooker in the morning to have a hot meal waiting at dinner time, so I thought I'd share a few of my favorite slow cooker recipes with you all, starting with this yummy Slow Cooker Beef Barbacoa pictured above. The slow cooker makes this barbacoa recipe so easy to make, and the house smells simply wonderful while it's cooking! I like to serve it with this Coconut Milk Rice with Cilantro & Lime for a homemade version of Chipotle's burrito bowls.
And just a few more of my faves:

You simply won't believe how You simply won't believe how tender and flavorful this Slow Cooker Cola Pulled Pork turns out!

This Chicken Tortilla Soup is creamy and flavorful. We love it served with an additional sprinkling of shredded cheddar cheese and a dollop of sour cream!

My kids love it when I make this Walking Taco Recipe. It's super easy, with little cleanup afterward, and fun to eat!

These easy slow cooker ribs are every bit as good as ribs cooked on the grill all day long. But you don't have to slave over them all day!

This simple Firehouse Chili recipe is the perfect way to warm up at the end of the day. Serve it with some Homemade Cornbread for a delicious and filling fall meal!
What's your favorite slow cooker recipe? I'm always looking for new ones to try!
This post was brought to you by Kimberly-Clark's Pick Up The Values, a program dedicated to providing families with helpful tips and convenient value to stretch their budgets. Don't forget to download your valuable coupons on the Pick Up The Values website, including $1 off a 6-pk. of Viva Paper Towels, perfect for helping clean as you go in the kitchen!