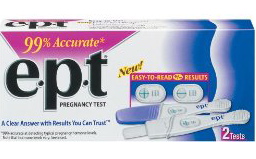 The $5 off any e.p.t. Pregnancy Test printable (IE) or printable (FF) is available again. I'm not sure if it's reset, so if you've printed it in the past, you may not be able to print it again.
You can find single-pack tests at Walmart priced around $3.97 making them FREE after coupon! I've also heard that they're around $5.99 at Target if Walmart isn't your store of choice.
These currently have an expiration date of 2/28/10.
Thanks, Christine!