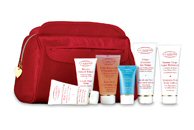 What a fantastic week for deals this has been!
Here's one more to add to the list.
Get a complimentary One-To-One Facial Treatment at Clarins Skin Center! Just print the certificate and take it with you, or you can call ahead to reserve an appointment.
Other awesome coupons that you may have missed this week:
Have you found any other great deals or coupons to use while you're at the mall?