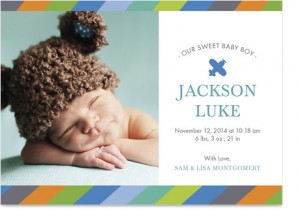 Cardstore knows that if you're expecting a baby there are probably a million details floating around your head about everything that needs to be done before your sweet bundle arrives.  Now you can shop their broad assortment of announcements to be sure you introduce your little one to the world in a perfect way.  Get 3 FREE Sample Birth Announcements and have them sent straight to you.  Just use promo code CAK2963 during checkout to get your cards for FREE.  You can also upload your friends and family's addresses to your Cardstore address book, so when your newborn arrives all you have to do is add your baby's picture to your favorite announcement and have them on their way.  Here's how to get your 3 FREE cards:
Login or Register with Cardstore.
Select up to 3 Birth Announcements to personalize.
Use promo code CAK2963 during checkout.
Hurry, this offer expires 8/20/12.
Cardstore.com is part of American Greetings Corporation and offers more than 6,000 greeting card designs for birthdays, holidays, and other special occassions that can be customized with your photos and personalized message.