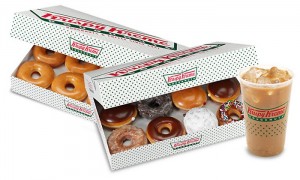 What a great deal – for friends, family – or for yourself! Hurry on over to Groupon where you can score a $20 Krispy Kreme eGift Card for $10! Verify this includes a location near you before you purchase.
Here's how to get your Krispy Kreme eGift Card:
Review the offer and "Buy Now" to complete your order.
Promotional value expires Aug 26, 2015. Amount paid never expires. Limit 10 per person, may buy 10 additional as gifts. May use multiple vouchers per visit. Not valid online. Valid only at listed locations. Not valid at supermarkets or convenience stores. Not valid on packaged coffee (bagged or K-Cups) or collectibles. Minimum purchase equal to the full offer value required. Not valid with any other offer. Not valid with Groupon Promo Codes. Merchant is solely responsible to purchasers for the care and quality of the advertised goods and services.