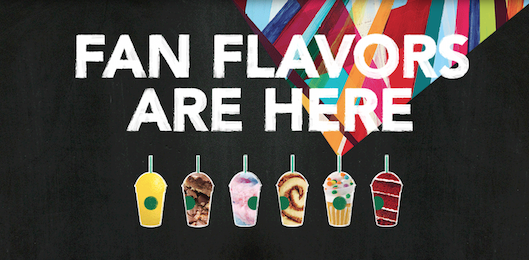 What a great deal – for friends, family – or for yourself! Hurry on over to Groupon where you can score a $10 Starbucks eGift Card for $5! This is a great chance to try the new #FanFlavors Frappuccinos for a steal…
Here's how to get your Starbucks eGift Card:
Review the offer and "Buy Now" to complete your order.
Register your new Starbucks gift card for My Starbucks Rewards.*
*After you get your Starbucks gift card, don't forget to register it for My Starbucks Rewards. New members that opt-in to receive promotional emails will receive a FREE Starbucks beverage!!! Get all of the details here.
Promotional value expires Dec 31, 2015. Amount paid never expires. Limit 1/person. Cannot be purchased with promotional codes. Offer valid within US only. Must redeem voucher by expiration date. Groupon will send amount paid in Starbucks Card eGift if not redeemed by expiration date within 30 days. All sales final.