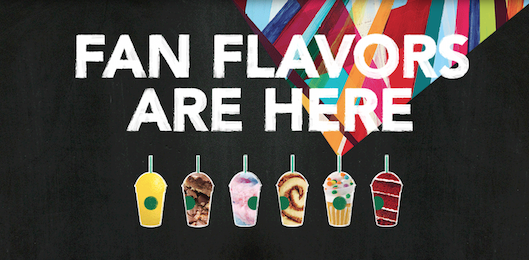 I had an email in my inbox this morning from My Starbucks Rewards announcing six fun new Frappuccino flavors this morning, all inspired by fans: Red Velvet Cake, Cotton Candy, Cinnamon Roll, Lemon Bar, Caramel Cluster, and Cupcake…. Is your mouth watering yet? I know mine is!!! What to try first?
My girls actually been order the Cotton Candy Frappuccino for awhile now after seeing the "recipe" on one of those Starbucks secret menu sites. They will be thrilled that it's now part of the regular line. (Some baristas were unsure how to make them.) And the Cupcake sounds very similar to the limited edition Birthday Cake Frappuccino that they offered a few months ago — yum!
Want to score a FREE Starbucks Frappuccino (or any other Starbucks drink)??? Just register for the My Starbucks Rewards program! Be sure to register a card and opt-in for promotional emails from Starbucks to receive your free drink offer.