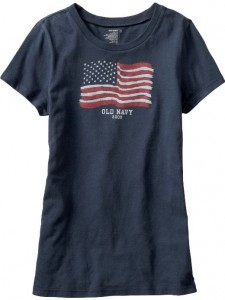 Old Navy is spoiling us with these deals lately! This Friday, July 3rd, you'll be able to pick up Old Navy Flag Tees for the whole family for just $1.
Limit 5 per customer.
Too bad we already bought ours but good news for those of you that haven't!
Still no news on the OldNavyWeekly.com front. I'm guessing they may do a late Thursday/early Friday morning refresh, but they've been rather unpredictable lately. I'll post as soon as I have more info!