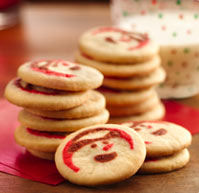 Print this $1/1 Pillsbury Cookie Dough printable twice to possibly score some FREE cookie dough! Many stores have already started marking down the holiday doughs to around $1, so that would make them free or cheap after coupon.
There are also a ton of other Pillsbury insert and printable coupons that will make the dough around $0.50 each.
Check out the Pillsbury site for some cute ideas on how you can give Pillsbury ready-to-bake cookie dough a homemade flair. Or if you prefer the real homemade variety, check out my recent Whrrl story sharing Hershey's Peanut Butter Blossoms.


And now I'm off to make my famous Walnut Chocolate Chip cookies and chocolate-covered pretzels (love that salty-sweet combination)!