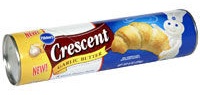 There's a new $0.70/1 Pillsbury Crescent Rolls printable (IE) or printable (FF) available. This should make for some FREE crescent rolls if your store doubles coupons up to $0.99! Be sure to hit your back button to print it twice.
Do you have any favorite recipes for using up crescent rolls? Of course they're great with any meal, but I'd love to hear some creative ideas to make them more special.
(Thanks, Couponers United!)
More new printable coupons:
You'll find all of these coupons and more in the DSM coupon Database!