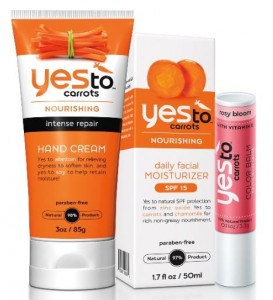 Sneakpeeq is offering over 50% off and FREE shipping on the hottest Yes To beauty products! Yes To Carrots Nourishing Hand Cream, Daily Facial Moisturizer and Rosy Bloom Color Balm all in a Yes To Nourishment bundle.  This perfect life-on-the-go beauty set retails for $22. You can get it for only $12 with your $10 NEW MEMBER credit!  I also found a Yes to Gentleness bundle on sale for $12 – only $2 with your credit!
Visit Sneakpeeq to score this deal:
Sign in or create your new account with Sneakpeeq.
Find the "Yes To Carrots" sale under the "Style" tab.
"Peeq for Your Price" on your favorite products.
Your $10 New Member Credit badge will automatically be applied.
"Buy Now" to add these to your cart.
Complete checkout process and enjoy FREE shipping.
Not familiar with Sneakpeeq? Sneakpeeq is on online social media marketplace, where you can find great items at amazing prices. You'll be thrilled at the hot deals you can find! (Hint, keep "peeqing" around to get additional $$$'s, nothing like FREE money!) The basic premise: You see an item that you like, and you click a "Peeq" button to flip the price tag around. Sneakpeeq also offers a new badge and point system when you peeq!