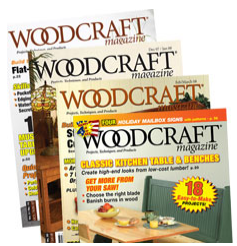 Here's a magazine deal that we don't see too often! Right now, you can get a one-year subscription to Woodcraft Magazine for only $6.39 per year, and you can order up to two years at this price! Just use code DEALSEEKINGMOM at checkout to get this discounted price.
Woodcraft Magazine is a bimonthly publication for woodworkers of any skill level. Each issue is filled with do it yourself projects, profiles of talented craftsmen, product reviews, industry news. Woodcraft Magazine brings you personal stories and informative articles that will inspire you to create. This magazine subscription is a great addition to your woodworking shop.
This offer expires at midnight EST tonight 04/17.
See another magazine you'd like to purchase? You can always use coupon code DEALSEEKINGMOM to save an additional 20% off of any other DiscountMags.com magazine subscription.