Join me every week for Win-It Wednesday, with 24-hour giveaways just for you!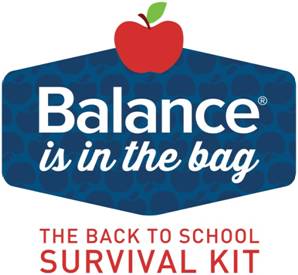 Have your kids started back to school yet? We're 4 weeks deep into our school year at this point, but I know many of you are just heading back. Either way, I thought I'd share these fabulous tips for surviving the Back To School season from parenting expert and mom blogger Jenny Ingram of Jenny on the Spot:
Keep Smart Snacks within Reach.Back to school isn't only exhausting for kids. Moms and dads get worn down too so smart snacking is important. Pack a supply of nutritious snacks to have in your purse for when you're running errands or going from school to practice. ItzyRitzy's reusable snack bags are perfect for keeping your on-the-go snacks organized and always handy. Fill them with grapes, almonds, carrot sticks and Balance bare bars for a healthy snack sure to satisfy both busy moms and kids until dinner!
The (digital) calendar is key.To make sure no one misses an activity, homework deadline or playdate, color code each kid in your calendar so you know exactly who is doing what and where and when. I love the Cozi app – it's free and great for organizing your upcoming activities and goes everywhere you do since it's on your phone.
Pack bags within your bag. If you're like me, you have a huge bag. It's great for storing lots of things, but it can be a wasteland and hard to find anything if you're not organized. I keep a mini bag that holds my chapstick, hand sanitizer and other items I regularly reach for in a brightly colored small bag that stands out. An Itzy Ritzy snack bag can even double as an organizational bag that's stylish too!
Miniature First Aid Kits. It's helpful to have some first-aid basics in your bag for everyday incidents that are bound to happen. My homemade first aid kit includes Band-aids, Neosporin, Kleenex and wipes. Trust me on the wipes – they're much more effective than napkins at cleaning up whatever messes my kids have.
Be prepared for homework. With after-school activities, keep homework supplies in your car and bag so your children can do their work while you're waiting for soccer practice. Keep rulers, pencils, pencil sharpeners, scissors, calculators and a clip board in the car to make sure you're prepped for any homework assignments.
Label everything. With 3 kids, and all the supplies and gear that come with them, I've learned to love labels. Before schools starts, I put Mabels Labels on their lunchboxes, backpacks, jackets, shoes, sporting equipment and anything else I can get my hands on. You'll never have to hear "she's wearing my sneakers" again and also helps avoid lost items in the school coat closet.
Pack healthy school lunches efficiently. Trying to accommodate everyone's lunch needs is hard. Make their sandwiches and then let them choose 3 snacks for themselves.In your pantry, have mom-approved snacks (like Mixed Berry Balance bar bars) in three drawers and every kid is allowed to choose 1 item from each drawer to add to their lunch.
Transitioning summer bedtimes. Yes, I'm probably guilty of letting the kids stay up a little too late during the summer. But that's what summers are for! However, those late nights are not going to work once school starts, so I like to gradually transition their sleep schedules. 4-5 days before school starts, I'll move their bedtimes up 10-30 minutes. It's a slow process but really helps to ensure they're rested and ready for the first day.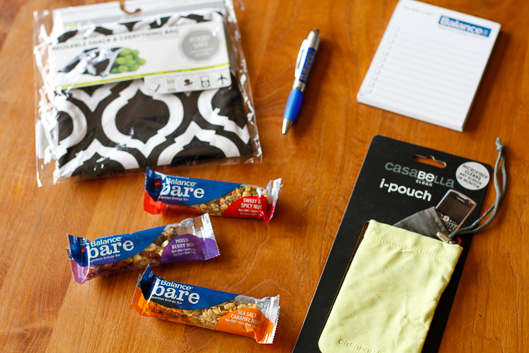 Balance Bar would like to send one luck Deal Seeking Mom reader back to school in style with this survival kit that includes a number of essential items, including a supply of Balance Bare Bars for healthy snacking! To enter, just share your favorite back to school survival tip in the comments below.
Balance Bar Back To School Survival Kit
Balance Bare Bars variety pack
Casabella Clean i-Pouch
Reusable Snack & Everything Bag set
Balance Bar pen/stylus
Balance Bar notepad

+++++++++++++++

Every reader has four methods available to enter this contest. Choose one each of any combination of method one, two, three, or four for up to a total of 4 entries!!!

If you are reading this in your email or feed reader, please CLICK HERE to visit the original blog post to enter. Email entries will not be counted.

Methods of entry:

1. Leave a comment. Share your favorite back-to-school survival tip.

2. Join the Deal Seeking Mom community on Facebook for more conversation, additional deals and a peek at the freebies I receive in the mail each week. Come back and leave a separate comment letting me know you've done so!

3. Add Deal Seeking Mom to your blogroll or add my badge to your sidebar. Make sure to come back and leave the link to your site in a separate comment!

4. Subscribe to my feed via RSS or email. You must confirm your email subscription for it to be a valid entry! Leave a separate comment letting me know you have done so. If you're already a subscriber, simply leave a separate comment letting me know you're already subscribed. Lovin' my subscribers! You guys make this all possible.

Prize:
One (1) Balance Bar Back-to-School Survival Kit, as described above.

This giveaway ends at 6:00 PM on Thursday, September 11, 2014 and is open to all U.S. residents 18 years or older. I'll use And the Winner Is to select the winning comment. Winner will be notified by email and listed on my Giveaway Winners page. Winners must respond within 48 hours of notification to claim their prize. Good luck!

While you're in a contest entering mood, don't forget to check out the Giveaway Gathering for a variety of contests being hosted on Deal Seeking Mom readers' blogs!