Join me every week for Win-It Wednesday, with 24-hour giveaways just for you!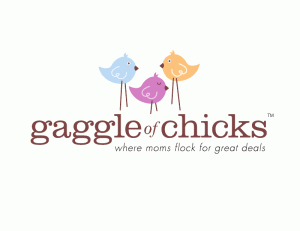 For moms looking to save some serious cash, GaggleofChicks.com is your site. Everyday you can save up to 70% on some of the best products and services for you and your family — everything from mom-recommended organic foods, clothing, baby products, and more, to mommy-only deals like spa services, jewelry and more. GaggleofChicks.com's bottom line is to save moms time and money!
GaggleofChicks.com also uses a new social approach to buying: if enough moms sign up for a deal, it "hatches" and everyone receives the discount. Plus, when users invite their friends, everyone gets $10! When the friends you refer sign up, they get a $10 credit. When they make their first purchase, you get a $10 credit.
GaggleofChicks.com and DealSeekingMom.com have teamed up to run a special giveaway just for DealSeekingMom.com readers!
Six lucky Deal Seeking Mom readers will each win a $50 credit to their GaggleofChicks.com account. Add this to the $10 you'll receive just for signing up as a referral from Deal Seeking Mom and you'll have $60 to spend right away!
+++++++++++++++
Method of entry:
To be entered for the GaggleofChicks.com giveaway, join GaggleofChicks.com and create an account. Note: Only accounts created through this link are eligible to win.
Not only this, but GaggleofChicks.com is also running two additional giveaways in conjunction with the DealSeekingMom.com $300 giveaway. Follow GaggleofChicks.com on Twitter and join the GaggleofChicks.com community on Facebook for two additional chances to win a $100 credit! They've been known to select followers at random for additional credits and the day's deal for free, so be sure to follow them for some spontaneous freebies.
Prize:
(6) $50 Gaggle of Chicks Credits
This giveaway ends at 8 a.m. EST on 2/3 and is open to all U.S. residents 18 years or older. Gaggle of Chicks will select the winner, and they will receive a $50 credit to their account. I will also list the winners on my Giveaway Winners page. Good luck!
While you're in a contest entering mood, don't forget to check out the Giveaway Gathering for a variety of contests being hosted on Deal Seeking Mom readers' blogs!