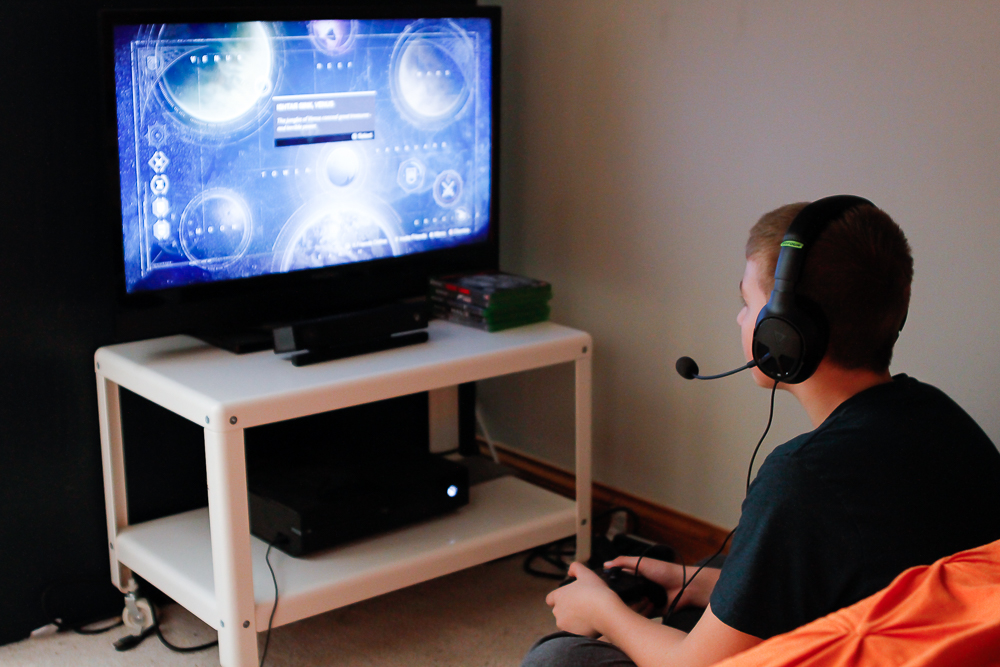 As with so many preteen boys, my boys are avid gamers, disappearing to their room for hours on end to play online matches with each other and their friends on their Xbox Ones. Things can get a little rowdy and loud up in there, especially since they got new gaming headphones for Christmas and don't realize just how vocal they're being, so I often just shut their door to block out the noise and let them be.
They also asked for gaming chairs for Christmas, but that was one gift they didn't find under the tree on Christmas morning — mainly because I just couldn't find a good option that fit their bedroom…
The placement makes taking a photo extremely awkward, but basically they have an awesome set of triple bunkbeds that fit into the corner of the room, with a double bunk on one side and a single loft on the other, both meeting up in the corner. It's the perfect option that allows them to have friends sleep over. Unfortunately, it also eats up a lot of space in their room and makes for some unique decorating challenges.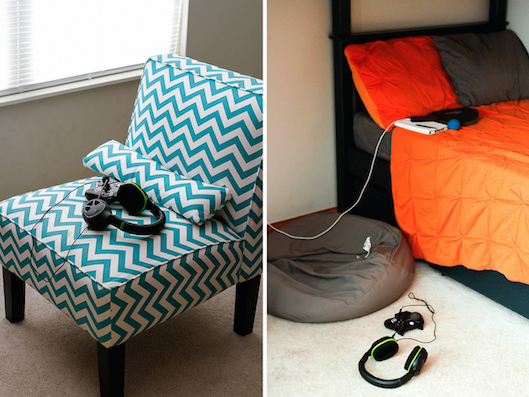 You might recognize the teal chevron chair above from previous posts. It originally lived in our great room and was later moved to my girls' room. After the girls received a lounging couch as their Christmas gift, one of my boys asked if he could use it in his room. As you can see, it's definitely seen better days, but it's served its purpose for now. My other boy has been using the gray beanbag (that's also seen much better days) under the loft area where his TV is set up.
When I saw that Walmart is having a Kids' Rollback Event online, I figured that I'd take a look to see if I could find them some chairs that looked a little more masculine and would fit their cramped quarters.
I was excited to find this awesome chair that featured a drink holder, pocket and easy-carry handle — but then I was pretty bummed to find out that the color options I was hoping for were out of stock. If you're looking for emerald, red or zebra print, though, definitely check that one out!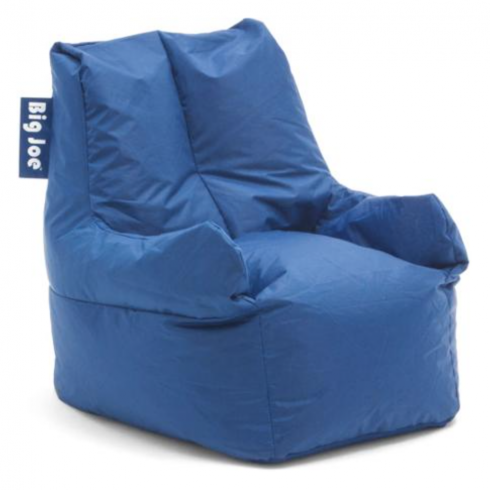 However, I did find another chair made by the same manufacturer that looks to be almost the exact same thing, minus the drink holder and pocket. These features weren't deal breakers for me, so I ordered two of the Big Joe Club 1 Chairs in the Patriot Blue Color. The squishy beanbag-like construction should make it easy to cram into their tight quarters, and the color should blend in well with their bunk beds.
I gave my boys a heads up that a couple of chairs were on their way, and they are SO excited for them to arrive! They should be here Thursday, so I'll come back to add a little update on their thoughts after actually trying them to this post then.
In the meantime, if you're looking to updated your kids' bedrooms, play areas or bathrooms on a budget, definitely check out the Walmart Kids' Rollback Event. There are some really cute items available at a discount right now!