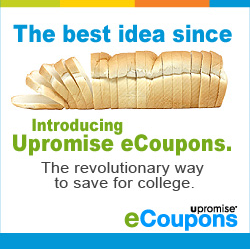 Have you started using Upromise eCoupons yet? These eCoupons actually deposit your savings directly into your children's college savings accounts, but unlike other eCoupons, they can be stacked with other manufacturer coupons, essentially earning you free money for college!
Here is a list of this month's coupons, which have all been entered into the Deal Seeking Mom Coupon Database for easy reference as well:

$2/1 BIC Hybrid Advance
$2/1 BIC Soleil Bella
$0.50/1 Bounty Napkins
$0.50/1 Bounty Paper Towels
$1/1 Charmin Fresh Mates
$1/1 Charmin MegaRoll
$1/1 Charmin Sensitive
$0.50/1 Chiquita Apple Bites
$1/1 Chiquita Bites Family Pack
$1/1 Chiquita Pineapple Bites
$1/1 Elmer's 3D Paint Pens
$0.55/1 Elmer's Foam/Display Board
$0.50/1 Elmer's Krazy Glue
$0.50/1 Elmer's School Glue Stick
$0.50/1 Farmland Bacon
$0.50/1 Farmland Deli Style Ham or Turkey
$0.55/1 Fisher Culinary Touch Cooking/Baking Nuts
$0.55/1 Fisher Fusion Snack Mix
$0.55/1 Fisher Snack Almonds, Cashews or Mixed Nuts
$0.50/1 Krusteaz Waffles, Pancakes or French Toast
$1/1 Select Krusteaz Items Featuring CoroWise
$0.50/1 No Yolks Egg White Pasta
$0.50/1 O-Ke-Doke Ready To Eat Popcorn
$1.50/1 Resolve Bright & White
$0.50/1 Resolve Fabric Treatment
$1/1 Snyder's of Hanover Lunch Pack
$0.75/1 Snyder's of Hanover Pretzel Specials
$0.75/1 Snyder's of Hanover Sourdough Pretzels
$2/1 Snyder's of Hanover Variety Sack
$1/1 Snyder's Pretzel Sandwiches
$1/1 Select Sylvania Bulb Packs
$0.50/1 Wacky Mac & Cheese Dinner
$0.50/1 Wacky Mac Multi-Shaped/Colored Pasta
Here's a list of participating stores. To load these coupons on your store bonus card:

2. Click on eCoupons in the left side bar.
3. Select the coupons you're interested in using (or simply add all of them in case you find a great deal on a product you wouldn't normally buy!).
4. Activate the coupons on your bonus card.
5. Begin saving!
Do you use Upromise eCoupons?