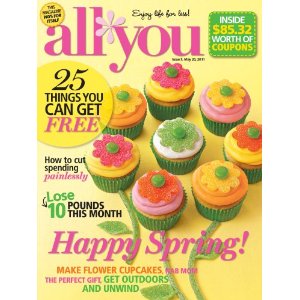 Don't toss those new magazine issues without checking the list of magazine coupons that Nicole's Nickels has compiled! You'll find a number of rare and/or high-value coupons that we don't often find elsewhere, and the best part is many of these are subscriptions that we've been able to obtain for FREE or very cheap over the past year.
Here are just a few highlights, and they've all been listed in the Deal Seeking Mom Coupon Database as well:

$0.75/1 Blue Bunny Premium Ice Cream or Novelty
$1/1 Sally Hansen Beauty Tool
$1/1 Olivari Mediterranean Olive Oil
$5/$10 NYC New York Color
B2G1 Nivea Body Wash
$1/1 Turkey Hill All Natural Ice Cream, exp. 9-1-11 (p. 183)
$1/1 Domino Light or Amber Organic Agave Nectar, exp. 7-31-11 (p. 202)
FREE panty at JCPenney, exp. 6-18-11 (p. 33)
$5/$25 at True Value, exp. 7-9-11 (between p. 24-25)
$10/1 Comfort Zone Product, exp. 12-31-11 (p. 69)
Save $2/1 Color Sensational Lipcolor, exp. 7-15-11 (between p. 92-93)
$1/1 Herbal Essences or Pantene Item @Target, exp. 7-31-11 (p. 145)
$2/2 Any Secret Deodorants, Body Sprays or Venue Razors @Target, exp. 7-31-11 (p. 145)
These lists were based off the subscription issues of each magazine. Newsstand issues may vary.
Thanks, Nicole's Nickels!