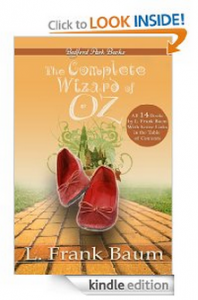 Amazon has a great sale on an e-Book for your Kindle
. Even if you don't have a Kindle, you can download a FREE app for your computer, BlackBerry, Android, iPhone or iPad.
Enjoy the The Complete Wizard of Oz Collection for $0.95!  That's 14 books in all, including:
The Wonderful Wizard of Oz
The Marvelous Land of Oz
Ozma of Oz
Dorothy and the Wizard in Oz
The Road to Oz
The Emerald City of Oz
The Patchwork Girl of Oz
Tik-Tok of Oz
The Scarecrow of Oz
Rinkitink in Oz
The Lost Princess of Oz
The Tin Woodman of Oz
The Magic of Oz
Glinda of Oz
Thanks, Cleverly Simple!