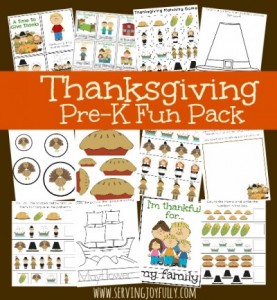 Right now you can get this Thanksgiving Pre-K FREE Fun Pack from Crystal at ServingJoyfully.com.  This Thanksgiving fun pack includes:
Coloring sheets with writing practice (Thanksgiving Vocabulary)
patterns, counting, same/different, and sizing practice
A simple Thanksgiving mini-book
My book of Thanks–lots of "I am thankful for…." cards, some are blank and some have pictures to indicate blessings, such as "parents," "family," "food," etc.
Thanks, Serving Joyfully!