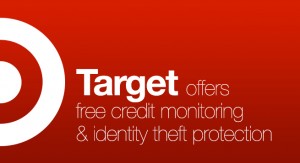 Heads up, Target shoppers.  If you were among the many that shopped at Target stores during the holiday season, you can a year of FREE credit monitoring from Target due to the security breach.  The one year of FREE credit monitoring membership to ProtectMyID includes:
Credit Report: You will get a FREE copy of your Experian credit report. If you enroll online, your report will be available online. Online credit reports are available for 30 days.
Daily Credit Monitoring: You will receive alerts for one year that reflect changes to your Experian credit report during your membership term. This includes new inquiries, newly opened accounts, new derogatory information (such as delinquencies or medical collections) and more.
Identity Theft Resolution: If confirmed that you have been the victim of identity theft, you will be assigned a dedicated, U.S.-based Experian Fraud Resolution Agent who will walk you through the fraud resolution process—and remain available to answer questions—from start to finish.
Identity Theft Insurance: If you have been a victim of identity theft relating to this incident, you will immediately be covered by a $1 million insurance policy that can help you cover certain costs, including lost wages, private investigator fees, and unauthorized electronic fund transfers for one year.
ProtectMyID ExtendCARE: Access to personalized assistance from a highly-trained Fraud Resolution Agent will continue even after the initial one year ProtectMyID membership expires.
Here's how to claim yours:
Head over to the Target Credit Monitoring Site
Enter your full name and e-mail address.
You should receive an e-mail confirmation with your activation code within 1 to 5 days.
Use your activation code to create a FREE credit monitoring account for 1-year.
Be sure you request a code by 4/23/14 and use your activation code by 4/30/14.
Thanks, "Cents"able Momma!