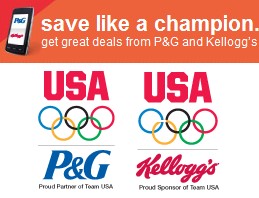 In celebration of the Olympics, there are a few new special Target mobile store coupons available today and they'll expire on August 11, 2012. To get these coupons text TEAMUSA to 827493 and you'll be rewarded with a text message that includes a link to these coupons. Just show the coupon to your cashier who will scan your phone to apply the discount.
All of these have been added to the Deal Seeking Mom Coupon Database as well. Remember, you can stack these coupons with manufacturer coupons for even bigger savings!
$0.50/1 Dasani Bottled Water (24 pk.)
$0.50/1 Kellogg's Special K Protein Meal Bars (6 pk.)
$0.50/1 Pantene Hair Care Product (excludes trial size)
$0.50/1 Prilosec Digestive Health Product (14-42 ct.)
$0.75/1 Keebler Cookies (excludes single serving-size)
$1/1 Pampers Diapers (excludes trial size)
$1/2 Coca-Cola Mini-Canned Soda (8 pk., 7.5 oz.)
$1/2 Coca-Cola Soda Multipack (6 pk., 500 mL, OR 6 pk., 24 oz., OR 8 pk., 12 oz.)
$1/2 Dasani Bottled Water (8 pk., 12 oz.)
$1/2 Keebler Town House Crackers (excludes single serving-size)
$1/2 Powerade Sports Drinks (8 pk., 20 oz.)
$1/3 Coca-Cola Bottled Soda (2 ltr.)
Not familiar with Target mobile coupons? To participate, you will need a mobile phone with internet access and text messaging. You can head online to register your phone or text COUPONS to 827438. You'll receive your first coupons within 2 weeks of sign up. Keep in mind, by signing up, you are agreeing to receive up to 5 text messages a month and standard text messaging rates will apply if you don't have unlimited text messaging.
Check out the current weekly Target deals for the best deals this week!
Beth from In Good Cents is the Deal Seeking Mom Store Expert for Target. At In Good Cents, she helps families in Indiana and beyond save on every day necessities, so they can enjoy the finer things in life.