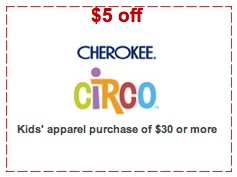 The $5/$30 Target Kids Clothing printable coupon is back! There aren't any restrictions, so this can be used on clearance clothing to really stretch your dollars. Print twice per computer.
This coupon didn't last long when it was available a few months ago, so if you're in need of summer essentials, I'd suggest printing now.
Thanks, The Thrifty Couple!