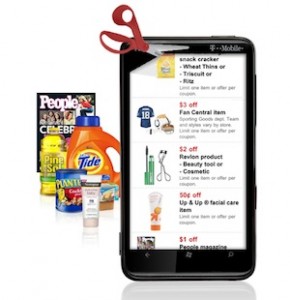 You'll find $12.50 in new Target mobile store coupons available today and they'll expire on August 3, 2012. All of these have been added to the Deal Seeking Mom Coupon Database as well.
Remember, you can stack these coupons with manufacturer coupons for even bigger savings!
$0.50/1 Zzzquil Sleep Aid Products (Liquid (12-24 oz.) OR Liquicaps (24-48 ct.))
$1/1 Bounty Paper Towels (6 pk.+)
$1/1 Charmin Bath Tissue (9 pk.+)
$1/1 Luvs Boxed Diapers (excludes trial size)
$1/1 Pampers Boxed Diapers (excludes trial size)
$1/1 Tide Laundry Detergent OR Tide Pods (excludes trial size)
$1/2 Always OR Tampax Products (excludes trial size)
$1/2 Crest Pro-Health Oral Care Products (excludes trial size)
$5/50 Digital Photo Prints (4×6 in.)
Not familiar with Target mobile coupons? To participate, you will need a mobile phone with internet access and text messaging. You can head online to register your phone or text COUPONS to 827438. You'll receive your first coupons within 2 weeks of sign up. Keep in mind, by signing up, you are agreeing to receive up to 5 text messages a month and standard text messaging rates will apply if you don't have unlimited text messaging.
Check out the current weekly Target deals for the best deals this week!
Beth from In Good Cents is the Deal Seeking Mom Store Expert for Target. At In Good Cents, she helps families in Indiana and beyond save on every day necessities, so they can enjoy the finer things in life.