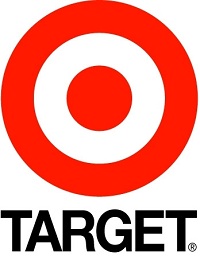 Here's a HOT new Target mobile coupon for $10 off your $40 or more grocery purchase at Target! Just text GROCERY to 827438. This Target mobile coupon expires 8/3. Plan on combining coupons and store sales to get the best deals. Items included as grocery purchases are:
Hellmann's or Best Foods Mayonnaise
MiO or Crystal Light Water Enhancer
Starbucks Frappuccino (9.5 oz, 4 pk.)
Market Pantry Pasta or Sauce
Archer Farms Trail Mix or Nuts
Red Baron or Freschetta Pizza
Starbucks Coffee (10-12 oz.)
Simply Ades or Juices (59 oz.)
Kashi Trail Mix Granola Bars
Oscar Mayer Lunch Meat
GoGo SqueeZ Fruit Pouch
Lipton Iced Tea (12 pk.)
Skippy Peanut Butter
Value-size Candy Bag
Kellogg's or General Mills Cereals (20.5-26.8 oz.)
Deer Park, Zephyrhills, Arrowhead, Ozarka, Ice Mountain or Poland Springs Water (16.9 oz. bottles, 24-pk.)
A&W, Canada Dry, Diet Rite, Dr Pepper, RC cola, Schweppes, Sundrop, Sunkist, Hawaiian Punch, 7-Up, Squirt, Cactus Cooler, Country Time, Vernors, Tahitian Punch, or Welch's Soda (12-pk. 12-oz.)
Check out more great Target deals before you go.
Thanks, Common Sense with Money!