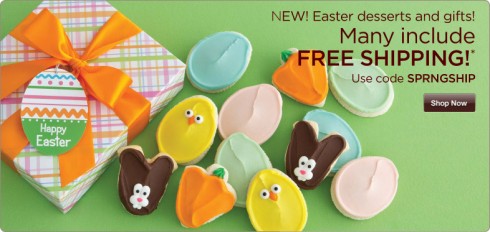 Right now NEW members to TopCashBack can score a FREE Easter Cookie from Cheryl's! There are many designs and flavors to choose from, including Easter bunny and chick themes. A $5 reward card is included with the treat. TopCashback's offering $5.50 cashback on the deal, effectively making the whole bundle FREE!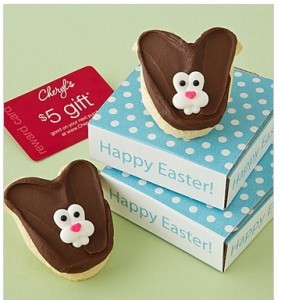 Here's how to score your FREE Gourmet Easter Cookie:
Register your new account with TopCashBack
Once you've registered you can search "Cheryl's" to find the cookie offer.
Click the orange "Get Cashback" button to open Cheryl's shopping page.
Click the "$5 Cookie Cards" to check out the Easter cookies and choose one priced at $5.
Proceed through checkout.
Your TopCashBack rebate of $5.50 will turn payable and can be credited straight to your checking or PayPal account within 60-90 days.
Be sure to share this deal with friends and family – TopCashBack doesn't limit accounts to one per household -so now's a great time to have your spouse, room mate or neighbor (or anyone else!) about TopCashBack.
Use your Tell-A-Friend Link when you share this deal with friends and family and you'll earn $10 for each new TopCashBack member who takes out this deal too!
Terms and conditions. IMPORTANT: Transactions must only contain one $5 'cookie card' to ensure $5.50 cashback is credited to TopCashback accounts. If another item is purchased or additional items are purchased at the same time, the cashback amount awarded will be 6% instead of $5.50. This promotion is subject to stock and shipping availability. This TopCashback Cheryl's offer is available until 23:59 PT on Sunday, April 20, 2014 or until stock runs out,, while it's priced at $5, to new TopCashback members only. This is defined as someone who hasn't ever made a transaction through TopCashback.com, regardless of whether they have already created a TopCashback account or not. If an existing member is found to have created more than one account, TopCashback reserves the right to terminate their accounts and withhold all cashback earnings to new, current or past Cheryl's customers, for online sales only, for purchases made directly after clicking through TopCashback.com. Only one $5 cookie card is allowed per TopCashback account/member, and only one TopCashback account is permitted per person.