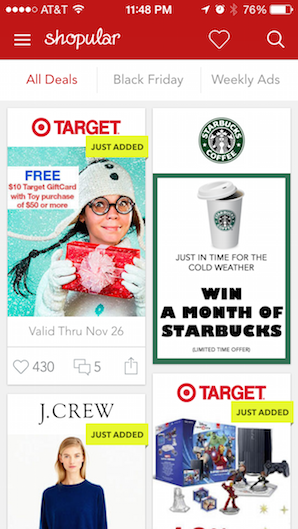 If you're not familiar with Shopular, this is one app you're definitely going to want to check out before Black Friday! Shopular delivers the best deals from your favorite retailers directly to your phone.
You choose which deals you want to see by selecting your favorite stores. Shopular can even notify you of coupons and deals based on your current location. That's right, when you allow Shopular access to your current location, the app can push you offers directly to your mobile phone as soon as you walk into a store! No login is required, and the coupons are updated daily.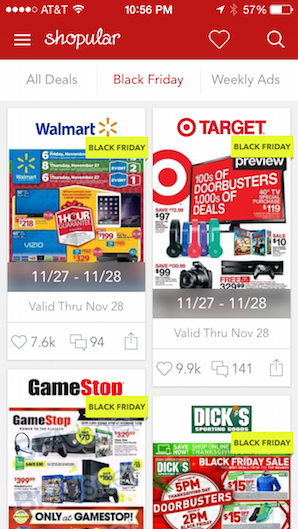 As I mentioned, Shopular is going to be a fantastic resource for Black Friday! Not only will it notify you about any coupons as you're shopping, but it will also give you easy access to the digital ads for your favorite stores. Just visit the Black Friday page in the Shopular app, and you'll find convenient links to the Black Friday tabs for all of the stores that you currently have listed as favorites.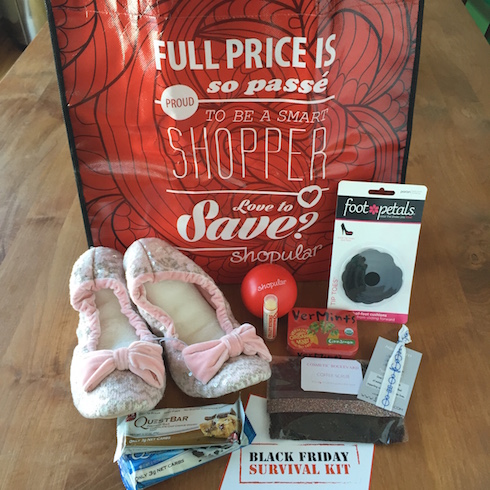 In addition to these 10 Tips for Surviving Black Friday that I've shared in the past, you may want to consider putting together a Black Friday Survival Kit to keep in your car. Shopular put together a fun little kit for me, so I thought I'd share it with you to give you some ideas.
Shopular Black Friday Survival Kit
Reusable Shopular Shopping Bag — Toting your own shopping bag eliminates the need to carry multiple smaller packages, and it's better for the environment. Win on all levels!
Stress Ball — Even though you shouldn't need to stress over saving money with the Shopular app, there are bound to be a few of "those moments" when you just need to take a deep breath and relax. Give a stress ball a squeeze to release some of that tension!
Crazy Rumors Lip Balm — I'm a lip balm junkie, so I couldn't pass up trying this all natural, vegan and organic lip treat. It leaves my lips smooth and the peppermint flavor is a great pick-me-up!
Quest Bars — You're going to need some extra sustenance to shop all night, and Quest Bars will give you the nutrition and energy you need to power through without resorting to a drive-thru run!
Foot Petals — Keep your toes energized with Foot Petals plush insoles, because there's nothing worse than hobbling from store to store on sore feet!
VerMints — My friends know that I always have a stash of chewing gum and mints in my purse. VerMints are organic and gluten-free, and the cinnamon flavor is a great alternative to mint!
Simbihaiti Hair Bracelet — My hair sure has a mind of its own at time, so I'm never without extra hair ties. These Simbihaiti Hair Bracelets can be kept in my purse of worn on my wrist for easy access at all times!
Cosmetic Boulevard Coffee Scrub — When the shopping day is done, rejuvenate with this refreshing body scrub to moisturize and exfoliate your skin!
Dearfoams Slippers — Finally, slip your tired tootsies into a pair of Dearfoams slippers to give your feet some much needed R&R after a long day of deal hunting!
In addition to these items, I think I'd also add a refillable water bottle and some hand warmers — you know, in case I get stuck in one of those frigid outdoor lines! Can you think of anything else you'd want to include in your Black Friday Survival Kit? Start gathering your must-have items now (and don't forget to download Shopular)!
This post is brought to you by Shopular. All opinions are 100% mine.