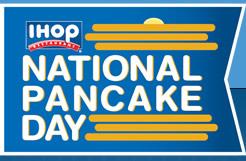 Mark your calendars now! Make plans to visit your IHOP on Tuesday, 3/4 to celebrate National Pancake Day and enjoy a FREE short stack of pancakes!  Since 2006, IHOP restaurants nationwide have been offering each guest a FREE short stack of its famous buttermilk pancakes on National Pancake Day (Tuesday, 3/4) in an effort to raise $3 million for Crisis Pregnancy Centers and other local charities.  The FREE pancake fundraiser will benefit Crisis Pregnancy Centers in the Columbus, OH area. Remember, all donations raised in your area will directly benefit your IHOP's local charity partner!
Here's some fun facts about IHOP's National Pancake Day:
IHOP served 4.5 million FREE pancakes on National Pancake Day 2013 and pancake lovers donated nearly $3 million to children's charities!
All of the free pancakes served on National Pancake Day 2013 would create a stack nearly 13 miles high!
Since the inception of National Pancake Day in 2006, IHOP has raised nearly $13 million and given away more than 22 million pancakes to support charities in the communities where it operates.