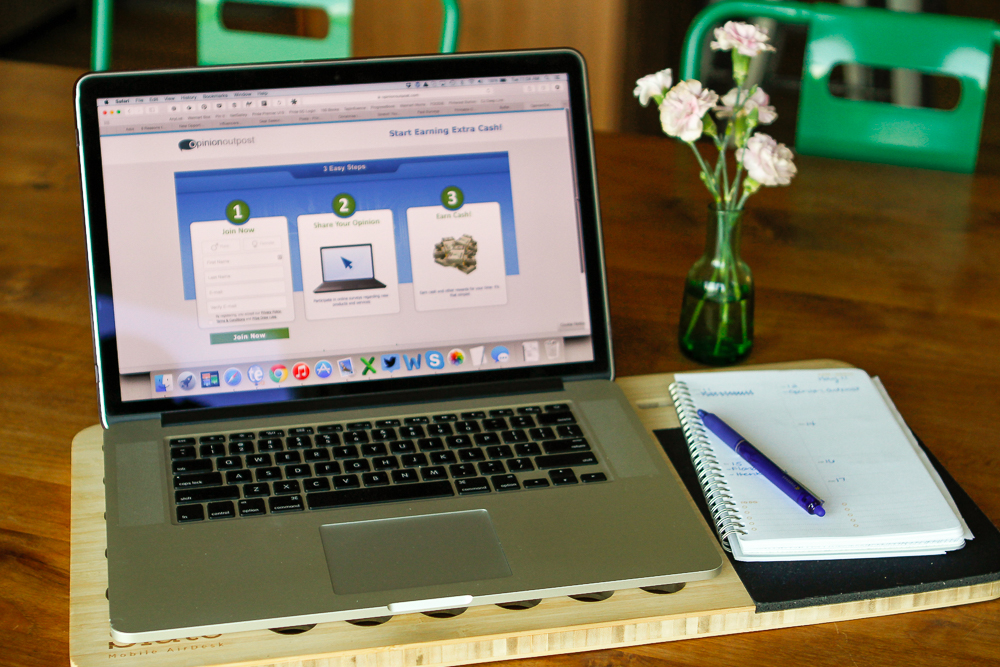 Some of you might recall a post that I wrote nearly 7 years ago (wow, have I really been blogging that long?!?) on how to pad your Christmas budget a bit by doing online surveys. Wildly popular at the time, that was the post that really opened my eyes to the impact I could have in helping others save money through blogging.
While I personally don't have a lot of extra time these days to spend on taking surveys, it's still a fabulous way to earn a little extra cash and/or rewards! And I do squeeze in a few here and there… If you're just getting started out, might I recommend checking out Opinion Outpost? Signing up is totally FREE and easy, so you can spend your time earning cash.
Earning Cash and Rewards with Opinion Outpost
If you like sharing your opinions and getting your voice heard, you're going to LOVE Opinion Outpost. It's an easy way to communicate to big brands and companies what you like and don't like about their goods and services — all while earning cash and rewards for your time. Here's how to get started:
Check your inbox to confirm and complete your registration.
Take the profile survey so that Opinion Outpost can determine which surveys are a good fit for you.
Start taking surveys to earn points!
Pretty simple and easy, huh?!? It won't be long before you're redeeming those points for cash (via Paypal) that you can use to buy gifts and groceries. I was also pretty excited to see that Opinion Outpost offers great rewards like iTunes.com® Gift Cards* and Amazon.com Gift Cards**. Yay for supplementing your music addiction and/or Subscribe & Save orders!
So what are you waiting for? It's only May — just think about how many points you can earn between now and the start of the holiday shopping season. Start earning cash for your opinions on Opinion Outpost today.
This is a sponsored conversation written by me on behalf of Opinion Outpost. The opinions and text are all mine.
*iTunes® is a registered trademark of Apple Inc., All rights reserved. Apple is not a participant in or sponsor of this promotion.
**Amazon.com is not a sponsor of this promotion. Except as required by law, Amazon.com Gift Cards ("GCs") cannot be transferred for value or redeemed for cash. GCs may be used only for purchases of eligible goods at Amazon.com or certain of its affiliated websites. For complete terms and conditions, see www.amazon.com/gc-legal. GCs are issued by ACI Gift Cards, Inc., a Washington corporation. All Amazon ®, ™ & © are IP of Amazon.com, Inc. or its affiliates. No expiration date or service fees.