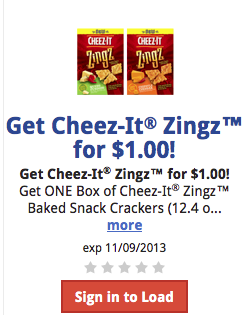 There is a special digital coupon out today that makes Cheez-It Zingz Crackers (12.4 oz.) just $1. To load your coupon, sign-in to your Kroger account. Load the digital coupon to your shoppers card. The next time you shop at Kroger, pickup Cheez-It Zingz and swipe your shoppers card at checkout. The coupon will be deducted!
This digital coupon is only available to load to your shoppers card on 10/25/13. However, it doesn't expire until 11/09/13.
Renae is the Deal Seeking Mom Store Expert for Kroger. She blogs about balancing work, money saving strategies and motherhood at How to Have It All.