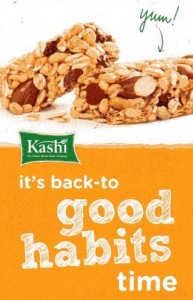 It's back!  You can grab a great $2/1 Kashi Product printable coupon for 100 Recyclebank points.  If you are not familiar with Recyclebank you will need to register and earn points to get this coupon.  This will make for a great deal just about anywhere you go!  Need more points?  Here are the current earning opportunities:
Coca-Cola Arctic Home (25 points)
Pantene Memory Test (25 points)
Kashi's Lifestyle of a Cereal Box (25 points)
Paper Pilot (25 points)
Hellmann's Be a Smarter Shopper (25 points)
Focus Your Day Contest (20 points)
Ziploc Quiz (20 points)
Pantene Nature Fusion Quiz (20 points)
Pantene Sustainable Packaging Pledge (10 points)
Pantene Plant Based Bottles Quiz  (10 points)
Thanks, My Frugal Adventures!