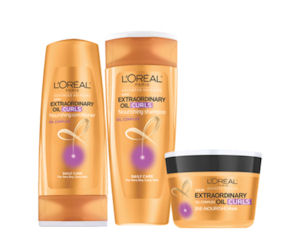 Request your FREE L'Oreal Hair Care sample today! Each sample pack includes shampoo, conditioner, and a treatment. You can choose your own sample pack from:
Extraordinary Oil – Dry Lifeless Hair
Extraordinary Oil Curls – Dry, Cury Hair
Total Repair 5 – Damaged, Over Processed Hair
Color Vibrancy – Color Treated Hair
Ultimate Straight – Frizzy or Unruly Hair
NutriGloss – Normal or Dull Hair
Thanks, Common Sense with Money!