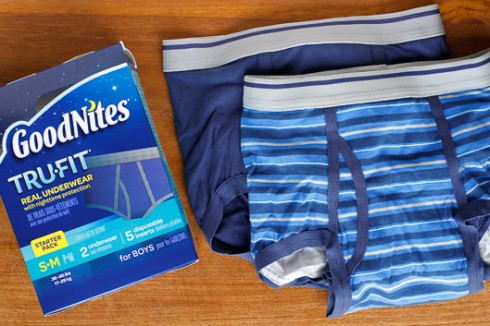 Have you tried the new GoodNites Tru-Fit Underwear yet? Walmart recently sent me one of the starter kits, and I'm really intrigued by them. They seem like a great solution for older children that still have occasional issues with bedwetting.
Though my kids are all past this stage, I know that some of their friends still struggle. Their moms have shared with me that it can be embarrassing for them to take part in sleepovers, and they'll often turn them down for fear of their peers finding out that they still need to wear some sort of protection at night. This product seems like it could give them a little more confidence.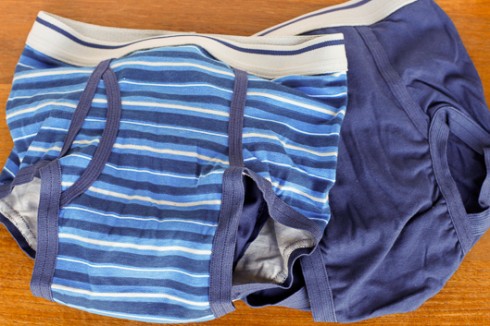 The starter kit includes 2 pairs of underwear and comes in blue patterns for boys and pink for girls. Made just like real underwear with a special pocket for a disposable insert, I can really see these appealing to kids that are still struggling with bedwetting but are at the age where disposable training pants are becoming an embarrassment.
Though my youngest doesn't have a need for this product, I did ask him to try the S/M size on just to see how they would fit. He's 6 years old and weighs about 50 pounds, and this size fits him perfectly. Even though the insert makes them slightly bulkier than regular underwear, they're definitely not as restrictive as regular training pants.
GoodNites Tru-Fit Underwear also come in L/XL that will fit children up to 100 pounds.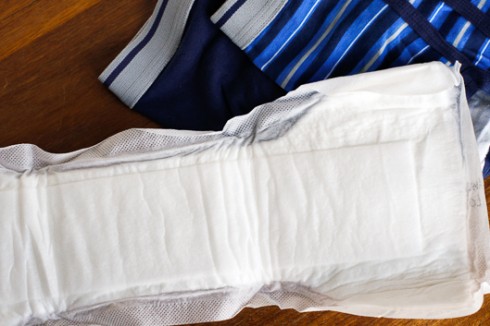 The starter kit also includes five disposable inserts. As I mentioned, the inserts fit securely inside a special pocket in the underwear. Placing the inserts in the underwear is fairly simple and straightforward, though it may be a bit tricky for younger children to place it by themselves.
The GoodNites Tru-Fit Underwear starter kits are priced at $17.97 at Walmart and have a money back guarantee. If you're intrigued and would like to give them a try, you can order one of the start kits on Walmart.com, or print this $3 off GoodNites Tru-Fit Underwear Starter Kit coupon to save in stores! You can also pick up the disposable inserts for $8.97 per package.