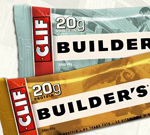 "Like" Clif Bar on Facebook and you can print two B1G1 FREE coupons! You've got until Dec. 31 before your coupon expires.
Don't have a printer or your store doesn't accept printable coupons? On the "Your Coupons Are Waiting" landing page instead of clicking the "Print Coupons" button click on the blue "Help" link in the bottom right-hand corner (near the Coupons, Inc. logo). This coupon is available by mail in some areas, just fill out the Mail Request Form with your mailing address found under the "Resources" tab. You can request two coupons, just fill out that form a second time (you'll receive two envelopes in the mail).
(Thanks, Freebies 4 Mom!)
While you're there, be sure to join more than 92,453 others and become a fan of Deal Seeking Mom. You'll find more conversation, additional deals and a peek at the freebies I receive in the mail!