Amazon has a vast collection of e-Books for your Kindle
. Even if you don't have a Kindle, you can download a FREE app for your computer, BlackBerry, Android, iPhone or iPad.
Today you can get TWO  eCookbooks for your Instant Pot Pressure Cooker! Instant Pot Cookbook: Top 201 Quick and Healthy Recipes with Pressure Cooker is FREE right now on Amazon.

Everything that you could ever imagine cooking is included in the book, from crab cakes to vanilla cakes, spicy vegetables to peach jams. With 200 over recipes, you can definitely utilise your Instant Pot on daily basis with satisfaction.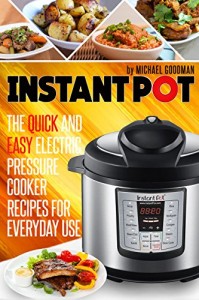 You'll also find Instant Pot Cookbook: The Quick And Easy Electric Pressure Cooker Recipes For Everyday Use on sale for $0.99!