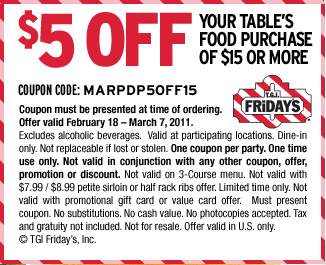 T.G.I. Friday's has done it again with another great promotion.  Now through March 7th, get $5 off your table's food purchase of $15 or more when you visit T.G.I. Friday's!
With entrées starting at just $6.99 (for the Gourmet Mac 'n Five Cheese), you could really take advantage of this coupon to enjoy a great meal with your family and friends that doesn't break the budget!
Some restrictions apply. Please refer to the original coupon for all terms and conditions.