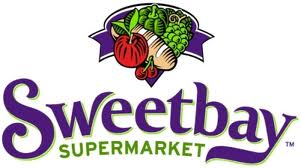 Thanks to Melisha at True Couponing for compiling a list of the best deals to be found at Sweetbay Supermarket this week.
New to couponing? Read up on what all of these abbreviations mean first in my quick reference guide.
Peter Pan Peanut Butter (16.3 oz.), 2/$3
Limit 4
$1/1 Peter Pan Peanut Butter, exp. 8/26/11 (Publix, Conagra College Care)
$0.50 ea. after coupon!
Snapple Tea (64 oz.), $1.99
Gatorade Thirst Quencher (32 oz.), $1
B10G5 Gatorade or G2, exp. 9/30/11 (Hangtag)
$0.66 ea. wyb 10 after coupon!
Red, Green or Black Seedless Grapes, $1.49/lb.
Carrots (2/lb.), $1.39
Bartlett Pears, $1.29/lb.
Sweetbay Whole Young Chicken, $0.99/lb.
V05 Shampoo or Conditioner (15 oz.), $0.79
 
Check out True Couponing for more deals!