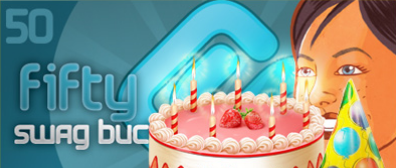 Swag Bucks just added a new bonus offering to their site. Add your birthday to your profile and you'll receive a credit of 50 Swag Bucks on your big day!
Don't forget to search today — the Summer Swag Spotlight is 47 Swag Bucks today! That means that every 7th search performed overall will win 47 SB. I won the 39 SB yesterday, as well as several other smaller wins throughout the day.
—————–
Not familiar with Swag Bucks? Swag Bucks is a search and win site that allows you to earn great prizes such as iPhones, iPods, concert tickets, gift cards, and more just for using them to search the Internet. For example, an Amazon.com eGift card is only 450 Swag Bucks!
If you're not already a Swag Bucks member, register now so you can claim 30 FREE Swag Bucks. Through midnight on Friday, June 11th, new members can also score an additional 20 FREE Swag Bucks when you enter the code SUMMEROFSWAG when registering. This will get you started with a total of 50 Swag Bucks!
Then read through this post to learn more tips on how to maximize your Swag Bucks earnings, including a list of tasks to perform daily.