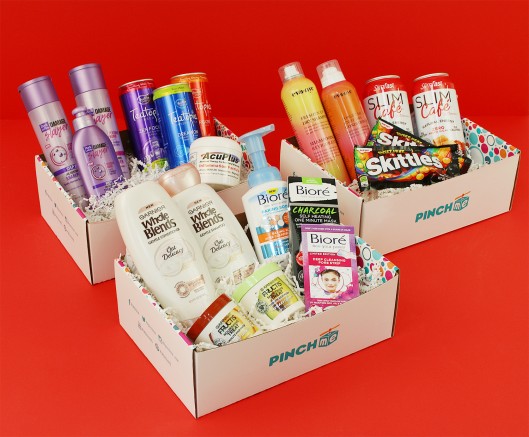 Surprise — it's PINCHme FREE Sample Tuesday TODAY! Yes, we get TWO chances to score awesome free samples in April!!! Are you ready to claim yours?!?! The fun starts at noon EST on PINCHme.com!
PINCHme members will have the chance to enjoy a lineup of amazing samples, including beauty, personal care, home, grocery, baby, snacks, pet and much more… There's something for everyone!
NEW free samples available this month:
Beauty & Personal Care:
-Garnier Whole Blends Gentle Shampoo & Conditioner Oat Delicacy
-Eva NYC Rock-A-Wave Curl Cream
-Dark & Lovely Damage Slayer – Pre-Treatment, Shampoo, Conditioner
-Bioré Baking Soda Acne Cleansing Foam
-Bioré Self Heating One Minute Mask and Bioré Deep Cleansing Pore Strip
-Bioré Baking Soda Acne Cleansing Foam
-Garnier New Fructis 1 Minute Hair Masks
Food & Health:
-SlimFast SlimCafé 100% Free Gratuity Coupon
-SlimFast SlimCafé Buy One Get One Free Coupon
-Teatopia Infused Sparkling Tea 100% Free Gratuity Coupon
-AcuPlus Pain Relief Cream
-Skittles® Sweet Heat Candies
(Note: not all samples will be available to everyone. Fill out your profile to qualify!)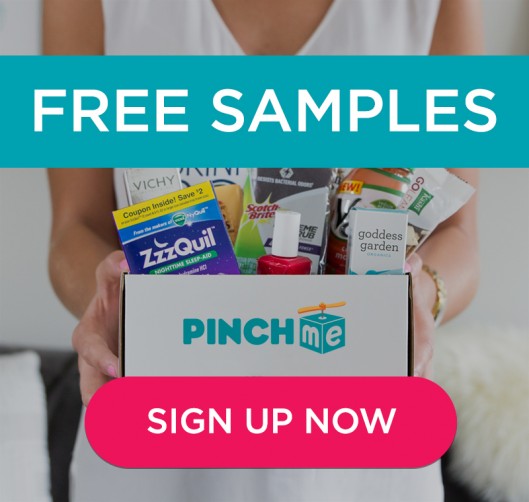 More about PINCHme!
PINCHme is a monthly subscription site that lets you try products from leading brands, completely for FREE! All they ask is for your feedback on the products. Every month, an amazing range of free samples are released on PINCHme for members to claim. These samples include grocery, baby, pet, beauty, home and personal care.
Here's How It Works:
Step 1: BECOME A PINCHER
Sign up for free now on PINCHme.com, take the shopper survey and tell them about yourself. They'll find the best samples for you!
Step 2: PICK YOUR SAMPLES
On Sample Tuesday, choose samples to add to your PINCHme box. No credit card required.
Step 3: GIVE FEEDBACK
Why Join?
100% Free – No credit card required + free shipping on every box.
Not your average Sample Box – Enjoy a variety of samples. From pets, beauty, baby, snacks, personal care, cleaning products, and household items – there's something for everyone!
Not just samples – Get special partner offers every day + exclusive sweepstakes each week.
Join the PINCHme community – Become a part of something bigger than the box by joining over 2.3 million members across the country.
Samples can go fast, so click here and sign up now so you are ready for your free samples!
Disclosure: I received a box of free samples from PINCHme to facilitate this post, all opinions are my own. Thank you for supporting the brands that support this site!