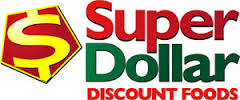 Thanks to Raki at Outside the Box Mom for compiling a list of the best deals to be found at Super Dollar Discount Foods this week.
New to couponing? Read up on what all of these abbreviations mean first in my quick reference guide.
Food Club Concentrated Bleach (64 oz.) – $0.99
Glory Vegetables (15 oz.) – $1.00
B1G1 Food Club Vegetable Oil (Pure 16 oz.)
B1G1 Baby Broccoli Florets (14 oz.)
Carolina Pride Bacon (12 oz.) – $2.50
Check out Outside the Box Mom for more Super Dollar Discount Foods deals!