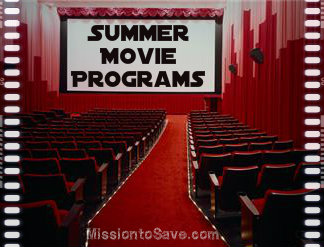 Check out this roundup of summer movie programs for 2014. This is a great way to save money and enjoy a little indoor/cool fun on those hot summer days! Thanks to Mary from Mission to Save for this list of Summer Movie Programs!
AMC Theaters: Summer Nights program (adults). 8 select blockbuster hits back for a limited time. Show times are Mon-Wed at 10 pm. Tickets are just $3 and benefit charity. See list of movies here.
CineMark Century Theaters: There are 2 different money saving movie programs at CineMark. Pay $5 per person for 10 shows when you buy them in advanced. Or if you buy your tickets at the show they are $1 each. See participating CineMark locations (note: some Rave Theaters are now owned by CineMark. Call your location for participation.)
Cineplex: Attend Saturday mornings in May and June at 11am for Cineplex Family Favourites. Watch a family favourite film each week for only $2.50 at participation locations. See movie list here.
Classic Cinemas: Beginning June 11th, Wednesday Morning Movie Series. Each Wednesday morning at 10 am ticket prices are just $1, all movies are rated G and PG.
Harkins Theater: There are 2 options, you can buy the season pass and it is less then $1 per movie and there are 10 movies in the season. Or buy tickets the day of the movie for $2 per ticket. Show times are at 9:45 am.
Marcus Theaters: June 18th – August 15th, 2013 on Tuesday, Wednesday, and Thursday mornings at 10am to view your favorite family flicks for just $2! And score 2 FREE tickets by visiting a participating American Family Insurance agent.
Regal Cinemas $1 Movies – All summer long long you can see movies for just $1 a ticket for select PG movies! Show times are Tuesdays & Wednesdays at 10am. See locations and films.
Studio Movie Grill: Summer Children's Series is every weekday at 11 am. See great family friendly films for $2 a ticket. See summer line up of movies here.
Showcase Cinemas Bookworm Wednesdays (select locations): Each Wednesday, kids can bring in a book report (unless you are six and under and then admission will be free) – which will be cost of admission! No list for 2014 yet.