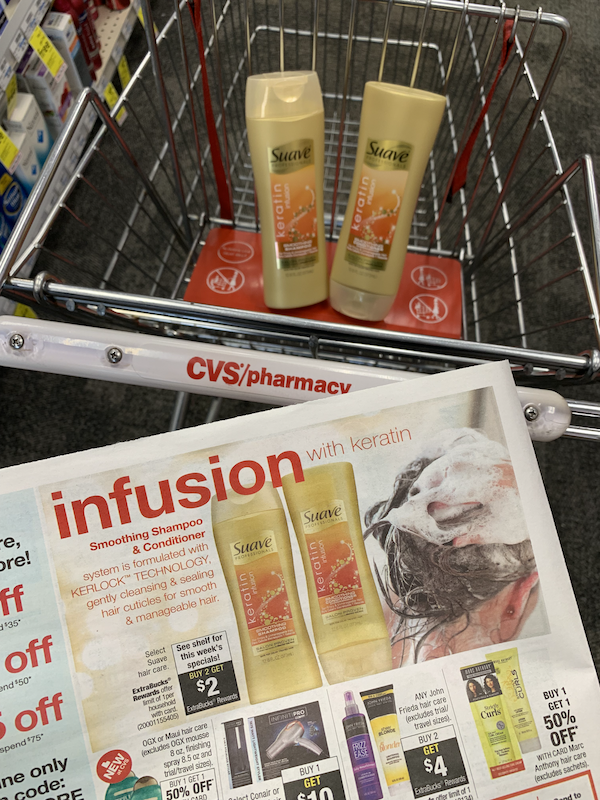 Disclosure: Sponsored by Mirum, all opinions are my own. Thank you for supporting the brands that support this site!
If you're anything like me, you probably have half a dozen half-used bottles of shampoo, conditioner, and body wash cluttering up your shower and/or under your sink. Actually, it's probably even worse than that here when you factor in the various bottles in my kids' bathroom upstairs… Oy!
With the time change and warmer weather, it seems like the perfect time to do a little spring cleaning and use up and recycle all of these halfsies! Which means we can then start fresh with new bottles of our favorite Suave bath and personal care products — all for a steal thanks to a sale and ECB offer at CVS.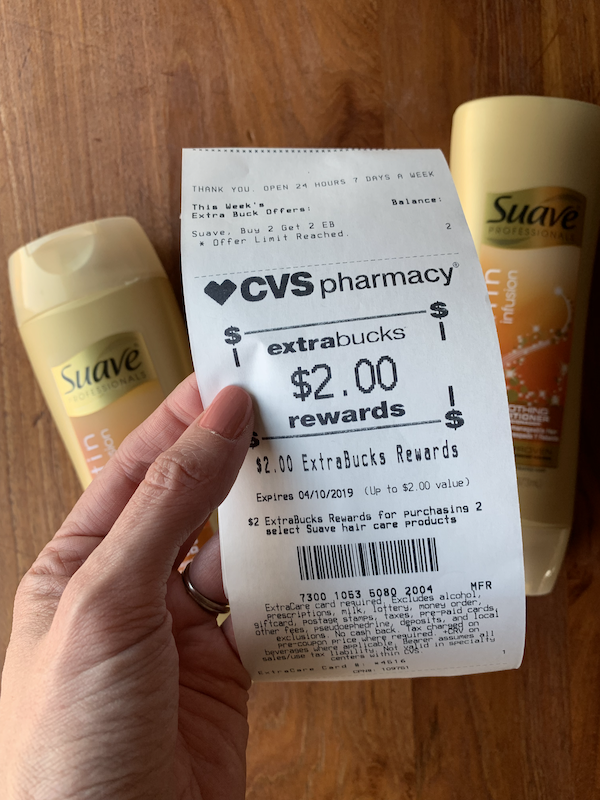 Right now you'll find a great selection of your favorite Suave products priced at 2 for $6. Plus when you buy 2 participating Suave products, you'll also receive a $2 in ExtraCare Bucks to use on a future purchase. And to top it all off, there were some Suave coupons in a recent RetailMeNot Sunday insert that you can use to save even more!
Using these the sale, ECB offer, and two of the coupons, I was able to pick up Suave Keratin Infusion Smoothing Shampoo and Conditioner for just $1 each:
Suave Keratin Infusion Smoothing Shampoo & Conditioner, 2/$6
Buy 2 Get $2 ExtraCare Bucks (limit 1)
Use (2) $1/1 Suave Professionals Hair Care Product, exp. 3/17/19 (RMN 03/03/19)
$1 ea. after coupons and ECBs!
My girls go through SO much shampoo and conditioner… You just can't beat this price!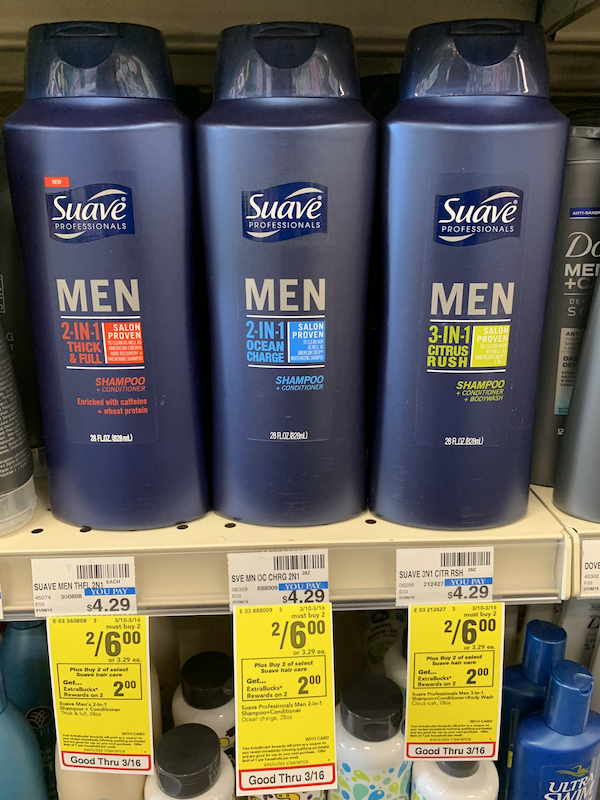 Suave Men's Body Wash is also part of the 2 for $6 pricing and qualifies for the ECB offer. My boys are partial to the Active Sport scent, but they also love the 3-in-1 Citrus Rush scent because one bottle takes care of everything!
Suave Men's Body Wash, 2/$6
Buy 2 Get $2 ExtraCare Bucks (limit 1)
Use $1/2 Suave Body Wash Products, exp. 3/16/19 (RMN 02/24/19)
$1.50 ea. after coupons and ECBs!

A few other items we love that you should keep an eye out for:
Suave Ocean Breeze Body Wash — this body wash smells amazing, and it's infused with a mineral-rich sea algae extract and Vitamin E to keep your skin soft and hydrated all year round.
Suave Powder Antiperspirant — I can't believe the price some brands are charging for antiperspirant these days. In comparison, Suave Powder Antiperspirant is a total bargain, and it protects skin against wetness all day long with a fresh, pleasant scent.
Suave Kids 3 in 1 Shampoo, Conditioner and Body Wash — my youngest finally just grew out of the Suave Kids line, but I'm quite sure it's saved me hundreds over the years. And I'll always be partial to the yummy watermelon scent!
You can find more coupons to save on these products in the coupon database!
Be sure to head to CVS this week to take advantage of these Suave deals!
2 for $6 + Buy 2 Get $2 ExtraBucks Rewards WITH CARD Select Suave products. ExtraBucks Rewards offer limit of ONE (1) per household with card. Offer Valid 3/10/19 – 3/16/19.